If you're thinking of moving to St. Louis—or investing in the area's hot residential real estate market—you need to add the dynamic and urban city of Clayton to your list. Clayton is not only known for its fast-paced business district, but also for the luxury residential and condo communities within this thriving community. Clayton, Missouri is given the nod by many for its award winning Clayton Public School District and to top it off, the tree-lined streets are flanked with some of Saint Louis' top restaurants and boutiques. The city of Clayton is hustling and bustling year-round, hosting the notable St. Louis Art Fair, The Taste of Clayton, Gallery Nights, a seasonal farmers market and so much more. It's no wonder that many flock to purchase Clayton Real Estate in this sought after community for the best in high-rise living. While we are blessed with many condominium style options (low-rise, mid-rise and high-rise), there are three high-rise communities that top the list for amenities, location, and style - each offering something distinct, convenient, and valuable to its residents. Below is the inside scoop on each of these exclusive buildings, as well as some pointers on how to secure one for yourself.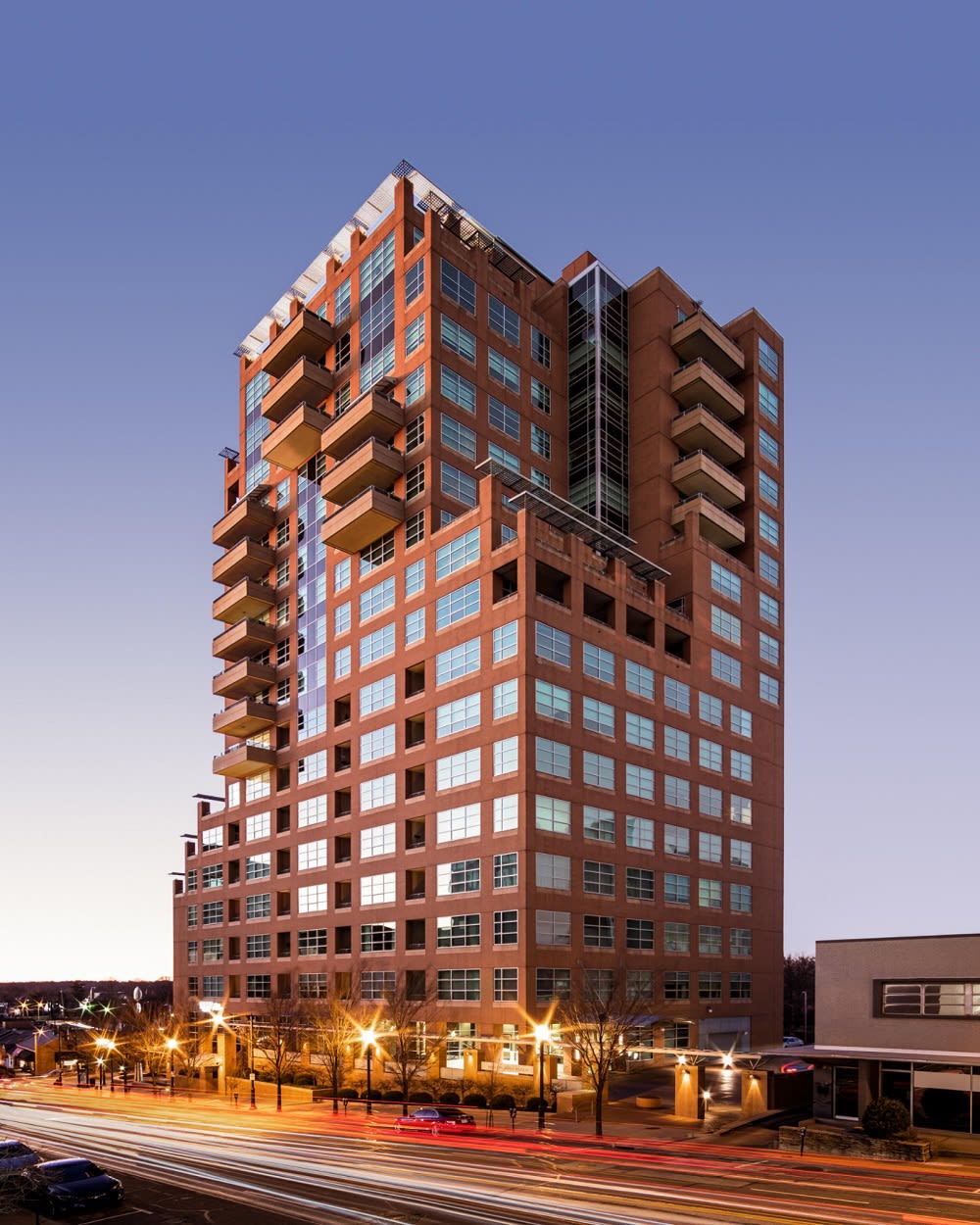 Maryland Walk Condos
Located at 8025 Maryland Avenue, Maryland Walk Condos is situated in a prime location between the upscale suburban neighborhood of Clayton Gardens and the fast-paced business hub of Clayton. Maryland Walk is a truly luxurious high-rise community, boasting 17 floors of condos with three stories of penthouses at the very top. Needless to say, there is comfort and views built into every individual unit— and 11'+ ceiling height no matter its size. The building has a total of 101 spacious condos, and in general, Maryland Walk prioritizes size and amenities.

An incredible panorama of the Saint Louis skyline dominates the views of every floor. There is no doubting its superior location, offering its residents all of the city's amenities within a very short distance - Straub's Market for provisions, Clayton Shaw Park for exercise, and loads of restaurants right out the lobby doors. In addition to the location, this high-rise community is known for the stellar amenities within the community. Most of the resident amenities can be found on the second floor - three guest suites available to the residents to accommodate overflow entertaining, a theater/library, a boardroom, outdoor pool and fitness center. The 24 hour doorman and in-house management is certainly a plus, and adds a cozy community feel to this 17 story complex with a fabulous indoor/outdoor rooftop space. Most units are deeded two parking spots in the secured and heated garage, while many of the penthouses are graced with three. Bike racks and storage units are available to all residents and here's the real kicker, it is a dog-friendly condo community with miles of sidewalks in all directions. Many of my clients love this complex for the ability to host a bbq on their own terrace, an amenity that is commonly overlooked in other condo complexes in Clayton. Offering an urban lifestyle without compromising the comforts of suburban living, Maryland Walk Condos is perfect for those wishing to live an active, luxurious lifestyle. It offers great educational access for families, as well as suburban amenities alongside the perks of urban living. Check out the various units that are currently available and recently sold here.
The Crescent
The Crescent Condos is a luxury high-rise located at 155 Carondelet Plaza in Clayton. With 73 units across nine floors with 9'ceilings, an on-site manager, a concierge, a heated garage, a fitness room and a private dog park for residents, The Crescent is an ideal place for those who want to live close to downtown Clayton.

The smaller number of units and floors creates a more intimate sense of community among residents of The Crescent, giving the building a feeling of home just outside the busiest area of the city. Located near the Maryland Walk Condos—but with significantly fewer residents—The Crescent provides a convenient and simple lifestyle adjacent to The Ritz Carlton of St. Louis. This complex offers its residents very quick access to Forest Park Parkway, the main thoroughfare connecting Clayton to its counterpart, the City of St. Louis. With a bit higher level of noise adjacent to the Parkway, this complex still remains a wonderful luxury lifestyle option while still remaining in touch with the activities and luxuries of the City of Clayton.
The Plaza
Soaring to 408' above the city streets below, The Plaza is a luxury condominium complex in downtown Clayton, adjacent to The Ritz Carlton. Located at 150 Carondelet Plaza, this complex is home to thirty floors that house approximately 81 units with 9' ceilings. The Plaza offers luxury amenities including a 24-hour doorman, valet service, a swimming pool, dog park and an exercise center available for residents.

The Plaza is a premier location for high-rise living in Clayton and is perfect for professionals, both working or retired, looking to live within walking distance of the hustle and bustle of Clayton. Many consider this complex to be head and shoulders above the other buildings in the area, others not so. Nonetheless, The Plaza offers its residents unmatched views of the St. Louis city skyline. The traditional and modern interiors are warm, inviting, and perfect for entertaining guests. Located less than ten minutes from the St. Louis Lambert Airport and downtown St. Louis, The Plaza has a prime location for those who want to get the most out of urban living. (Photos by Steve Newman)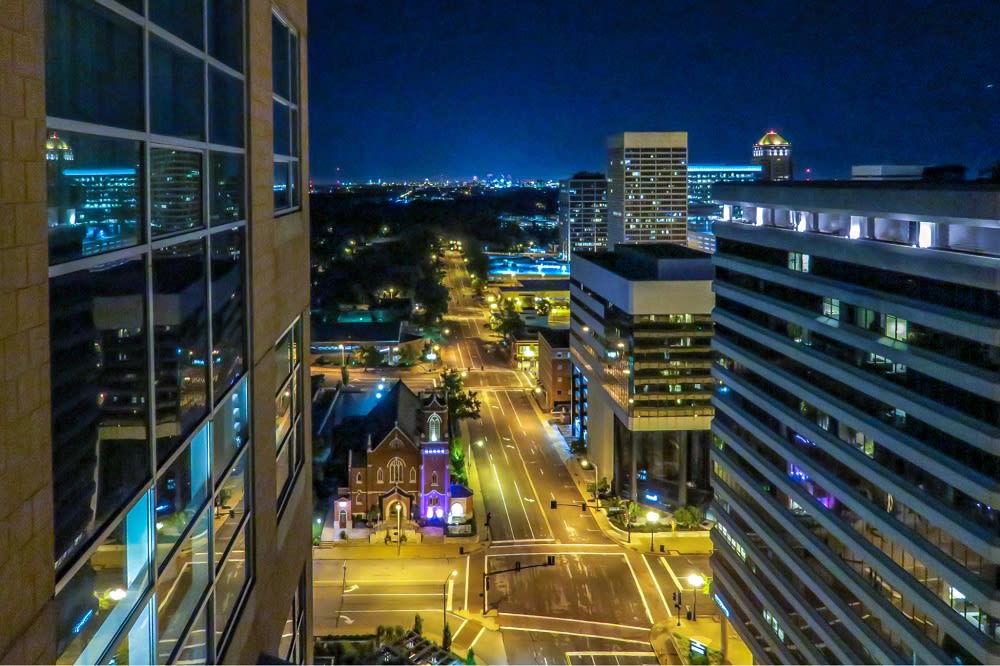 Shopping for high-rise luxury real estate near St. Louis?
Maryland Walk Condos is perfect for those who want to live a quieter lifestyle while maintaining walkable access to the city. The Crescent is a smaller complex bordering the Forest Park Parkway and offers an intimate community without sacrificing luxury or convenience. The Plaza is best for those seeking close access to The Ritz Carlton and wanting a more pampered level of service.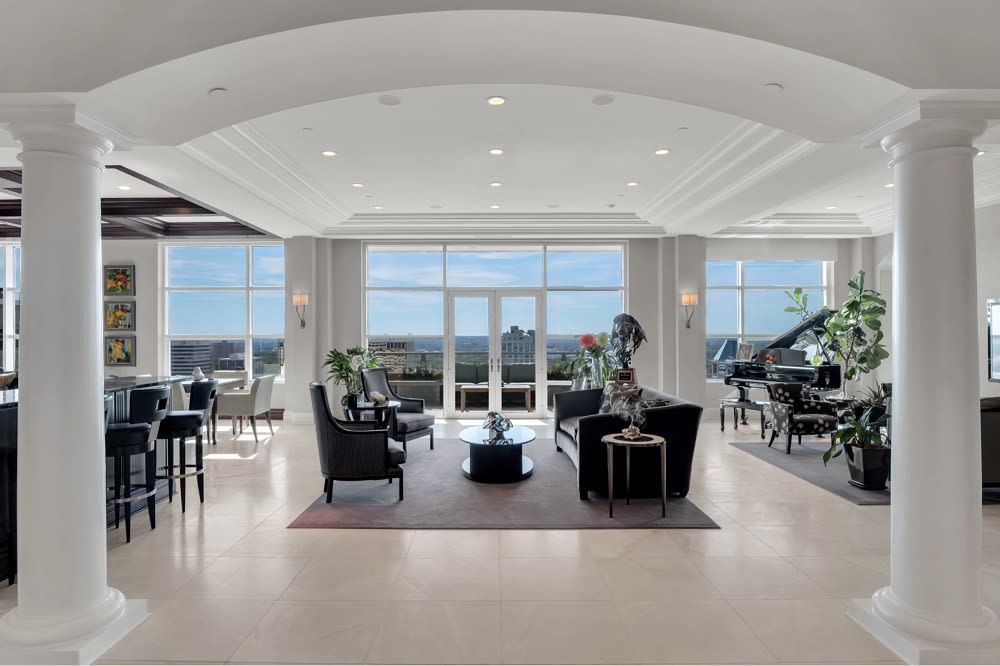 If you are looking to make an investment in a high-rise property in St. Louis's most well-appointed suburb, contact Suzie Wells to start your search for Clayton real estate. With extensive local knowledge of what Clayton has to offer residents and investors—and a long list of references—you can trust Suzie to help you every step of the way!